Ladies Kurti | Latest Kurti Design | Designer Kurti | Long Kurti | Cotton Kurti | Kurti Neck Designs | Long Kurti design
Overview
Be a trend-setter by stylish some fancy and unique kurtis at parties, festivals and events. It is an outfit that is available in a variety of fabrics and patterns. The attire is detailed with beautiful prints and embellishments that makes it look more attractive and interesting. If you are desiring to wear something ethnic and comfortable then you can definitely go for a kurti. Take out the collection of kurtis from your wardrobe and wear it at brunch or family gatherings. I am going to showcase Latest Kurti Design in this blog.
Ladies Kurti
Pairing it with a perfect pant and proper fitting, designer kurti gives you a glamorous and effective look. Picking the right fabric is very important so that you can wear it all day long. For afternoon functions and gatherings choosing cotton, georgette or linen will be the best. Evening functions and heavy fabrics like silk or jacquard are the best combinations. Women also wear it on a regular basis so that fabrics like rayon, chiffon, art silk as well as cotton and linen are favourable. Drastic color combinations and alluring designs makes it a stunning outfit.
Check out how you can look trendy in a kurti by wearing it in the right way. Pairing it with the right pant will give you a fabulous look.
The first way to get a proper look is to pair it with a matching pant for salwar, here are some proper matches that will guide you to select the more favorable one.
Kurti with Sharara – latest kurti design
A flared and beautiful sharara is the best combination with short kurtis. The kurti with straight fitting and side slits look glamorous with it. Shararas and ghararas are the most trending picks nowadays. The flare is detailed with amazing borders and embroidery work that gives it an alluring look. The outfit can be printed or may have beautiful embellishments.
Kurti with Palazzo
For those who like to wear something elegant and simple, a plain palazzo with a-line kurti or straight kurti makes a pretty pair and proves to be the perfect pick. The palazzo can be straight or may be flared from bottom. It is very comfortable and gives easy movements to the wearer. Wearing a contrast color pants with the cotton kurti will give an extraordinary look.
Kurti with Pants
Narrow pants and cigarette pants paired with a properly fitted straight kurti gives you a taller and slimmer look. If you are medium-heighted and want to look tall then do pick this attire and wear heels for a more dignified look. The pants are also paired with some flared kurtis that are knee-length or floor-length. The pants can be plain or have fewer embroidery at the ankle that makes it look more beautiful.
Kurti with Jeans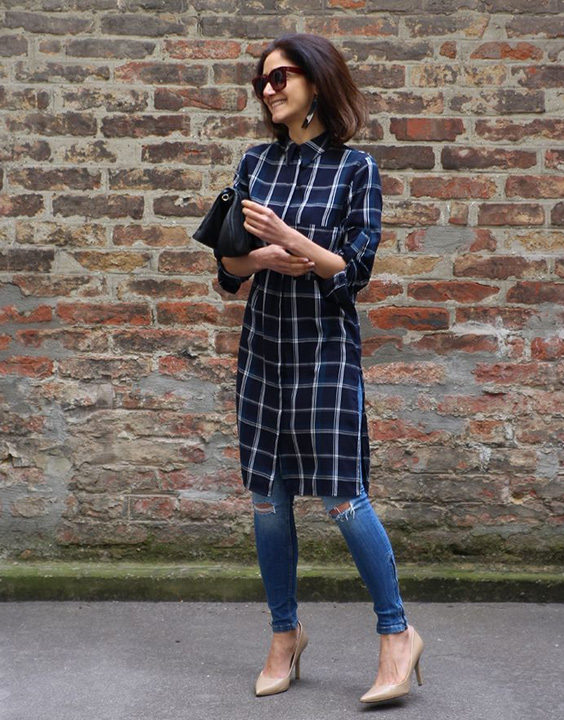 Girls usually prefer to wear blue or black denim jeans with a long kurti. Some fancy kurti detailed with tassels and laces having tie ups at the side slit or in the front looks awesome with jeans. A long slit kurti having some beautiful prints, long sleeves and a simple neckline is the most popular match nowadays. A pair of matching shoes completes the look.
Kurti with Dhoti – latest kurti design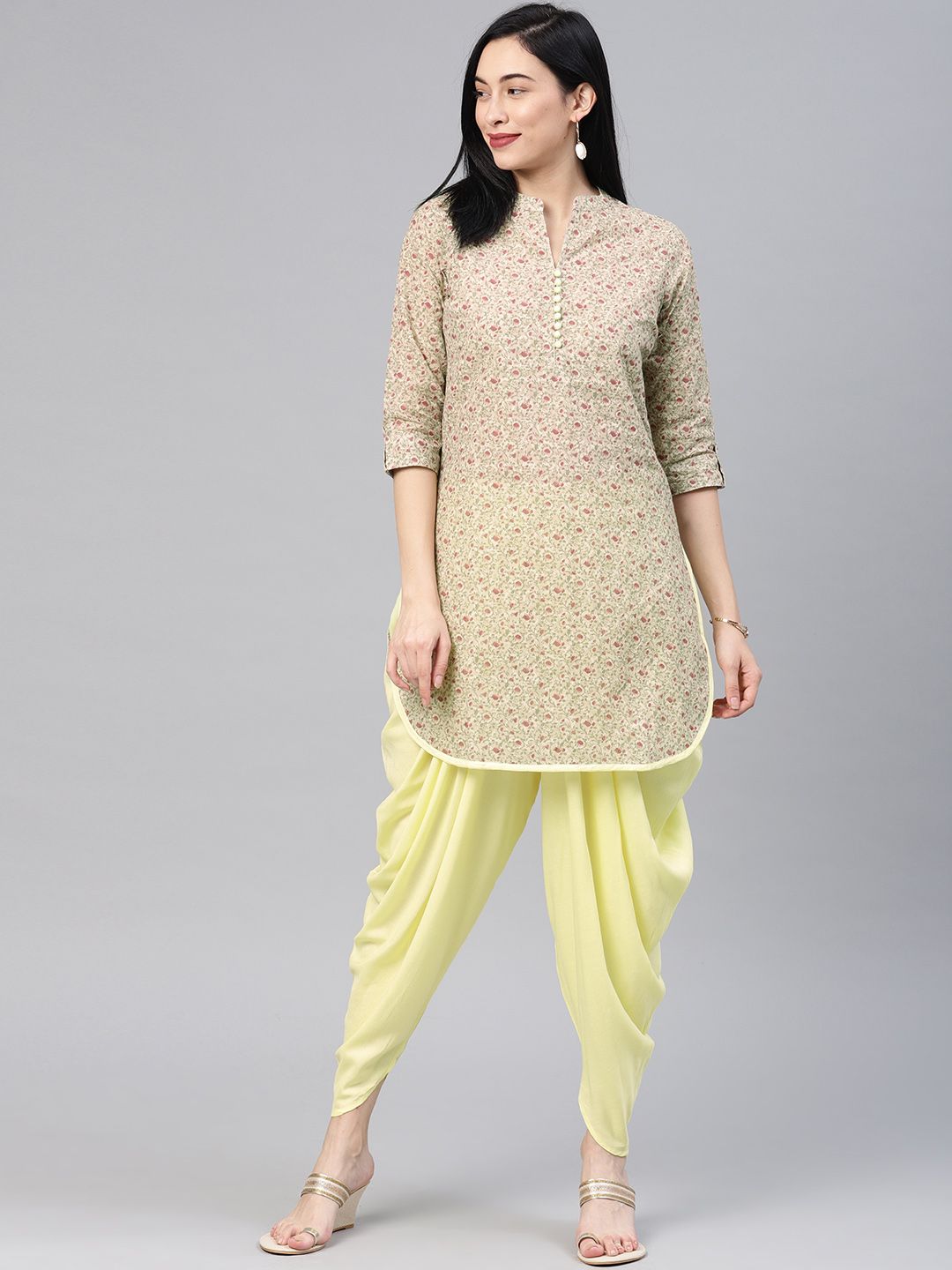 If you are choosing a short kurti for festivals or other auspicious functions then pair it with a pleated dhoti for a chic look. Cold shoulder frock style kurti paired with a contrast color pleated dhoti will make you the limelight. You will definitely look trendy and classy in this outfit as it will give you a glorifying look.
Kurti with Churidar Salwar
A salwar with several wrinkles at the ankle can be paired with many different types of kurtis. Mostly long and flared kurtis are paired with this one. Some asymmetrical kurtis or an up and down kurti are also a perfect match for it. Plain salwar and a printed kurti makes a comfortable attire that can be worn anytime and anywhere.
Also Read – https://kordinate.world/beauty-hacks/skin-care/skin-tightening-home-remedies/
To look the best you need to wear the attire that suits your body type. As every woman has different body types there are some particular patterns that look outstanding on them or if they are opting for any other then they need to wear it in the correct way. Some women are tall, some are short. They are rectangular shaped, apple shaped, pear shaped, diamond shaped, etc. For taller ladies floor-length and flared kurtis are the best option. The ones that are not so tall look amazing in short kurtis and fitted pants. latest kurti design (Neck Designs) plays vital role in this.
Jewel Effect – latest kurti design
The next thing that completes your trend is to pair some beautiful accessory with it. Girls love to wear different accessories with the outfit so that they can shine WITH latest kurti design wherever they go.
Jewelry: Pairing some attractive and bold jewelry adds a minimalistic look to your outfit. A pair of matching earrings, necklace, ring and bracelet are the most common ones that are paired with the attire.
Footwear: The most important accessory is your footwear. It is the first thing that strikes everyone when you go to them. So make sure that you choose the most desired one. Matching heels or a colorful jutti anything can be matched.
Makeup and Hairdo: Opting for neutral makeup with a pretty hairstyle is must with kurti. Short hairs can be left open and long hairs can be converted into french braid or fish braid. Smoky eyes with heavily embellished kurti makes you look like a diva.
Clutches or Handbags: Last but not least add a clutch or small handbag with your attire so that you can give a final touch up to your ethnic look. It is not a necessary one, but is preferable one if you are going out. It will help you to keep the cards and mobile with you every time.
If you are willing to get them for wedding functions then you need dozens of them. Get ravishing wholesale kurtis at reasonable prices from online stores. It will save your time and you will get thousands of varieties in just a few clicks. Going out in the market may disappoint you as it is possible that you don't get the desired pattern. So chill and choose whatever you want with lots of color options and varieties.   
Check Out Interesting Content: Shadi dress