Bengali film actress and TMC MP Nusrat Jahan's married life is getting new twists every day like any film story. Nusrat Jahan has declared her marriage with Nikhil Jain as invalid. She says that in 2019 this marriage was done according to Turkish law and due to not being registered under the Indian Marriage Act, this marriage is not valid, while now her husband Nikhil Jain has also broken silence in the matter. Nusrat Jahan issued a statement two days ago and made serious allegations against Nikhil Jain, while retaliated now, Nikhil has also issued a statement and made new revelations about married life. Nikhil Jain has said in his statement that after a year of marriage, both the attitude and behavior of Nusrat started changing. What is the reason for this change, 'Only Nusrat can tell better.' Not only this, Nikhil has also hinted about Nusrat's affair.
Pointing to an affair without taking Yash's name
Nikhil Jain has even claimed in his statement that he tried his best to save this marriage. She and Nusrat Jahan also live together like a husband and wife, but Nusrat's style changed for the past one year. He has cited the shooting of the film without naming anyone and said that this change happened in Nusrat since the shooting in 2020. Significantly, in 2020, Nusrat worked with Yash Dasgupta in the film 'SOS Kolkata'. There is also a lot of discussion about the affair between Nusrat and Yash. Nikhil Jain claims that he talked to Nusrat many times to get his marriage registered in India, but Nusrat refused every time. Come, know what else Nikhil has said in his statement.
1. 'Extremely saddened by Nusrat's allegations'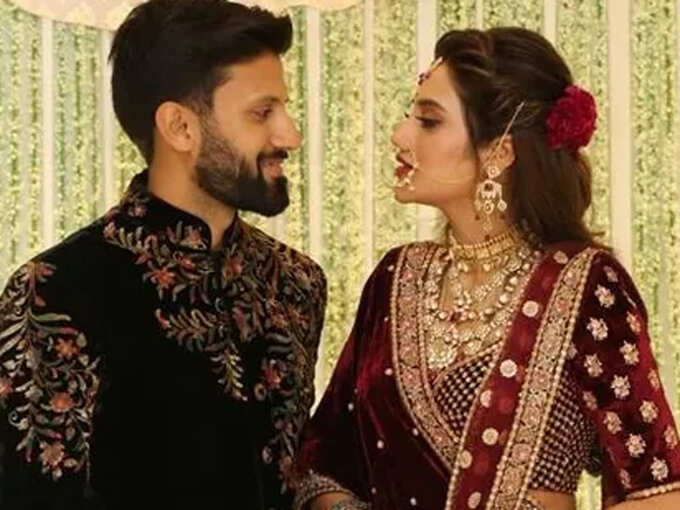 Nikhil says, 'I am deeply saddened by the kind of allegations being made against me and my family regarding my married life. In such a situation, I am compelled to disclose some facts. I had proposed Nusrat Jahan for marriage after falling in love, which she happily accepted. We had a destination wedding in June 2019 in Bordum, Turkey, which was followed by a reception party in Kolkata.
2. 'I honestly gave everything to him'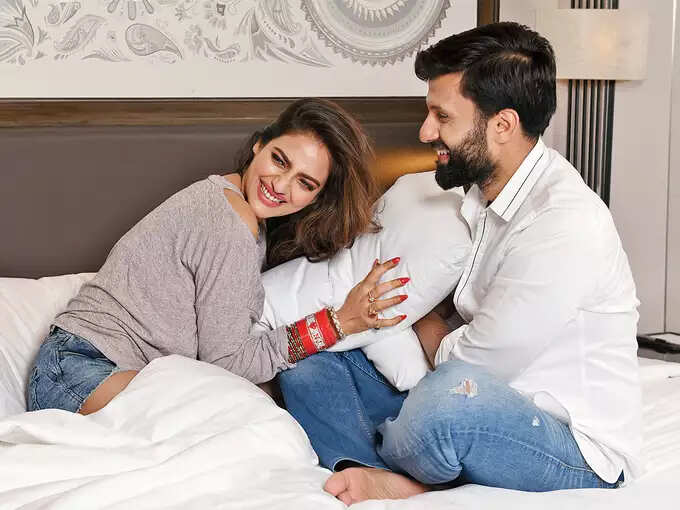 We lived together like husband and wife and introduced each other as a married couple in the society. Like a responsible husband, I honestly entrusted all my time and resources to Nusrat. Family, friends and all our close ones know what I did for him. I gave him full support without any condition and no one can challenge it. But after some time our married life and my husband changed his attitude.
3. 'His attitude started changing from August 2020'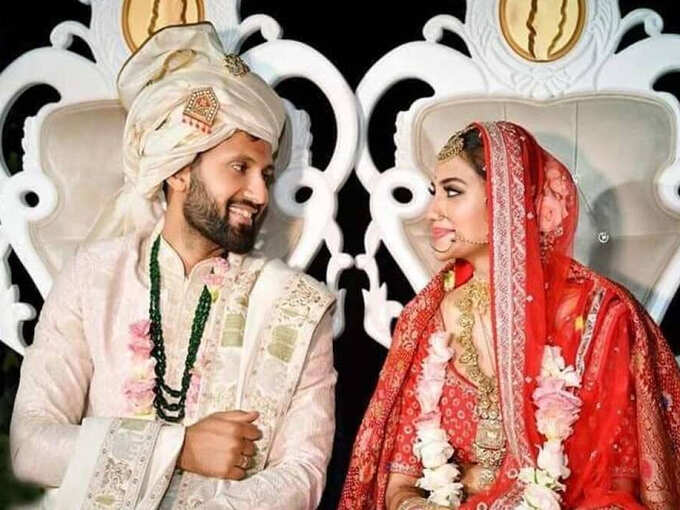 'While shooting for a film in August, 2020, my wife's behavior started changing towards me, what are the reasons for this, she can tell better.'
4. 'Refused to register marriage with Nusrat'
'When we lived together, I told him several times to register our marriage, but every time he denied it.'
5. 'Nushrat and I have not been together since November'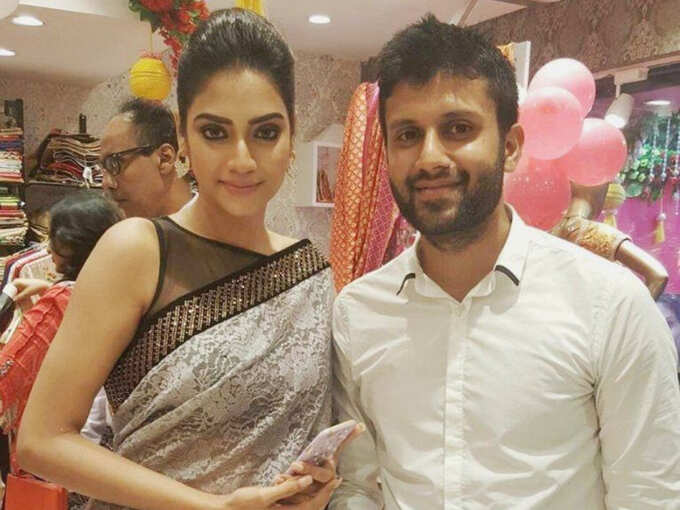 On November 5, 2020, she left my flat with her bag, all valuables, papers and documents and shifted to her Ballygunge flat. Since then we have never lived together as husband and wife. Some of his personal belongings and some papers (income tax return etc.) were left behind, which were sent to him after his shift.
6. 'Civil suit done in court in March'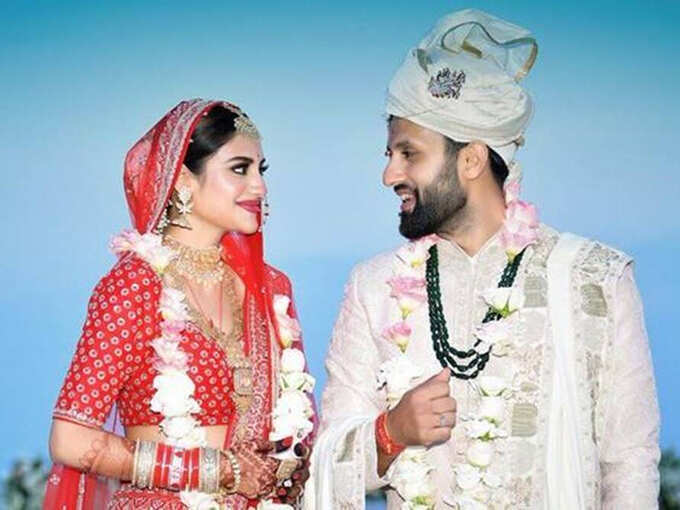 'I saw news about his outing in many media reports, I felt like I was cheated. I was heartbroken and finally I filed a civil suit in the court of Alipore Judges to annul the marriage, bound on March 8, 2021.'
7. 'I was forced to come forward'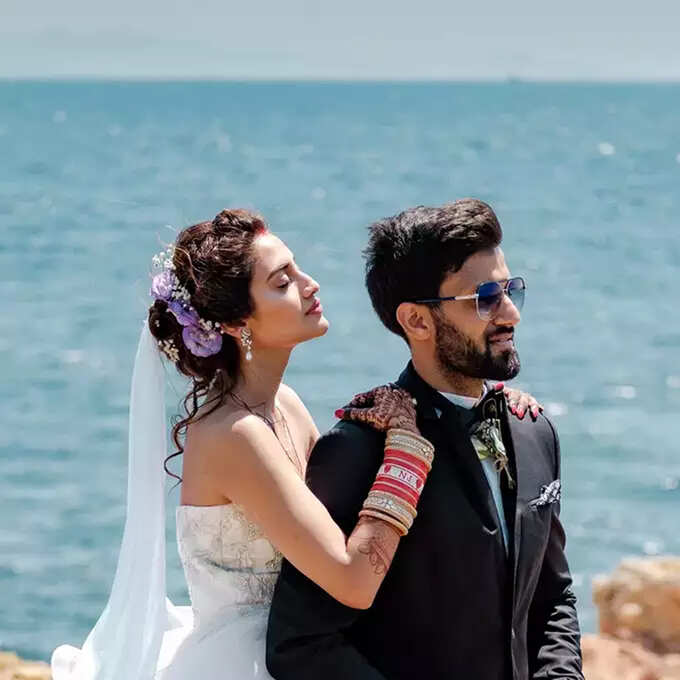 'The matter of annulment of our marriage is pending in the court, so I was forbidden to give statement about our personal life, even today I cannot make many personal disclosures because of this. But after her (Nusrat) statement, I was compelled to put forth some facts.
8. Nusrat was given a huge amount on loan, still outstanding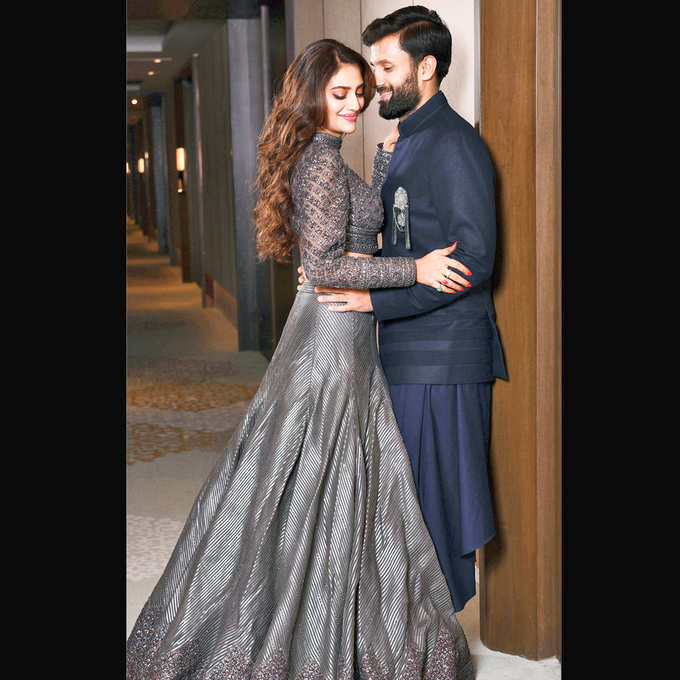 "After marriage, to save Nusrat from the huge interest on home loan, I transferred some money from my family account to her account thinking that she would return the money in installments over time. Whatever money has been transferred from his account to my family account is the payment of the same loan which I had given him with good intentions. There's a lot of money still pending in this. Whatever allegations she is making are outrageous and baseless. There is no truth in them at all. One does not even need to look for evidence in this regard, as all the evidence is already there in the form of bank statements and credit card statements. My family had accepted her as a daughter with open arms, did not know that these days would also have to be seen.
9. 'Do not comment on personal life'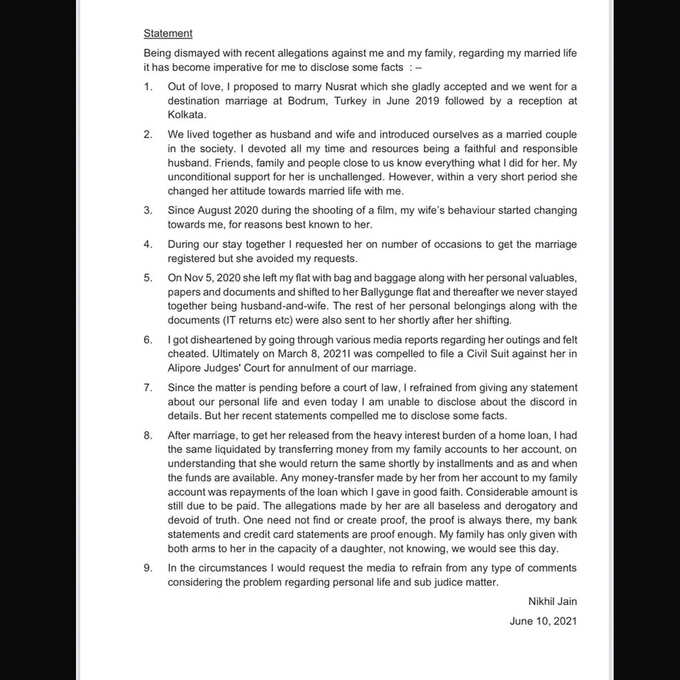 At the end of his statement, Nikhil said, 'In the current situation, I would like to request the media to refrain from making any statement regarding personal life and legal matters.'