Kartik Aaryan is one of the cute actors of Bollywood and now by watching the video that is going viral, you will be sure that he is equally cute in real life. A very cute video of Karthik Aryan is going viral in which he is seen touching the feet of his new car Lamborghini Urus.
You may not have seen any of these stars before. Kartik Aaryan, who won everyone's heart on screen with his cuteness, is winning the hearts of fans in this video too. Karthik Aryan has gifted himself a stunning black gleaming Lamborghini Urus (Lamborghini Urus), which is said to be worth around 3.43 crores. In this video, the happiness of buying expensive cars in crores is clearly visible on his face. Karthik is not even trying to hide this happiness. Despite having a mask, his face smile is clearly visible in this video.

Although many videos have come out from the day Karthik bought the car, but this video is the most beautiful. Karthik gets out of his car in this video and is then seen bowing in front of his car in front of the camera. Famous photographer Viral has shared this video and wrote – Karthik Aryan is seen bowing down to his new car, which he has bought with his hard-earned money. On this post, Karthik immediately responded and said- Sir, if he had won the lottery, he would have bowed like this.
Fans are also commenting fiercely on this video of Karthik. However, many people are surprised at this act of Karthik, who are questioning the worship of the car? At the same time, a user has said – in happiness, the shirt also wore vomit.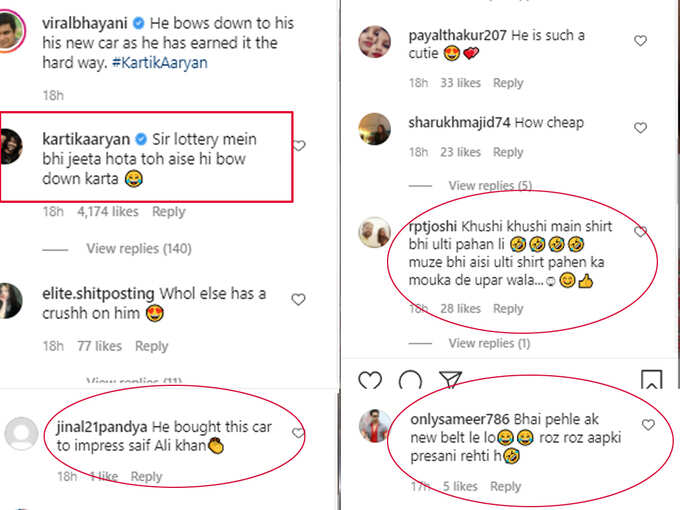 In the video, Karthik is seen pulling the pants up with his hands and a user has written on it – brother first take a new belt, there are problems every day. One user wrote – He has taken this car to impress Saif Ali Khan. Recall that a few years ago Karthik and Sara had a lot of discussion. Let me tell you that Sara has also openly admitted that she has a crush on Karthik Aryan in an episode of Karan Johar's show 'Koffee with Karan'.
Earlier, Karthik shared a funny video with Lamborghini's showroom and wrote- I bought it, but I don't seem to have made it for expensive things. Actually while posing in this video, it suddenly rains party props and after hearing the voice, he gets nervous and is seen falling.