Highlights:
ECB suspended after Ollie Robinson's tweet went viral
James Anderson also deleted an old tweet from his 2010
Anderson made controversial tweet about Stuart Broad's haircut
New Delhi
There has been a lot of ruckus in international cricket after the suspension of Ollie Robinson. Robinson's tweets were 'racist and sexist'. For this reason, the England and Wales Cricket Board removed Robinson. In this current environment, England's legendary fast bowler James Anderson has now deleted an old tweet in which he called Stuart Broad a '15 year old lesbian'.
There has been a lot of controversy in England cricket ever since Robinson's old tweets surfaced. Many former and current cricketers are giving their opinion on this. Dom Bess, part of the Test series against New Zealand, has deactivated his Twitter account. He doesn't want to be under any kind of scrutiny.
Anderson did not consider himself test worthy, now he will become the biggest English cricketer
Meanwhile, it has also been learned that the ECB has also identified another player who had made racist tweets in the past. However, the board has not disclosed his information. The board does not want the Robinson-like controversy to reappear.
Meanwhile, it seems that some players have started cleaning up their social media accounts. They are trying to remove such tweets which can cause trouble for them. James Anderson, the world's most successful Test fast bowler, is doing the same thing. However, screenshots of his controversial tweet about Stuart Broad are going viral.

ECB right decision to investigate by suspending Ollie Robinson: Michael Holding
In one of his tweets from February 2010, he wrote, 'First time I saw Brody in a new haircut. I found it a little different. Although he looked like a 15 year old lesbian (gay).'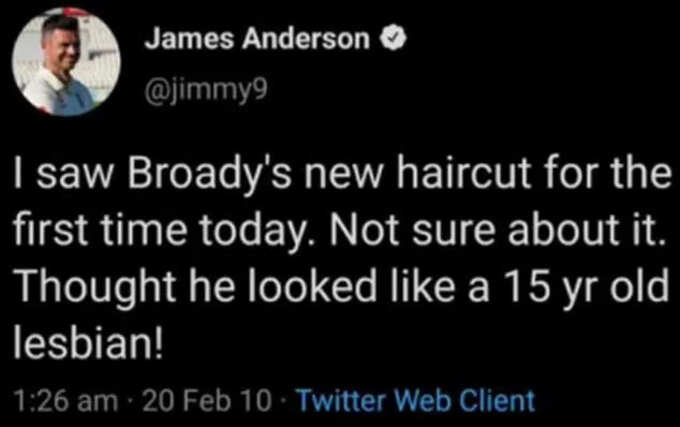 Talking about the past of his social media account, Anderson said, "For me, from 10-11 years ago I am definitely a changed person. I think that's the problem, things change, you make mistakes. This is something that of course we should keep an eye on.
"If there are tweets from many years ago, we should revisit them and learn from them," he said. We should try to do better in future and believe that such language and words should not be used.

Ollie Robinson Suspension: ECB should include Ollie Robinson again in the team, career should not end due to past mistakes
Meanwhile, the England Cricket Board has said that it will continue to investigate and take action on past tweets whose language is highly objectionable. On the other hand, apart from Anderson, Jos Buttler and Eoin Morgan are also under scrutiny for their old tweets.
.