SBI has warned more than 400 million customers by alerting them. The bank says that do not forget to download this app.
The country's second largest government bank SBI (SBI-State Bank of India) has warned its customers. The bank says that even after forgetting your birth date, debit card number, do not give any personal information related to it. Apart from this, there are some apps that you do not have to download. Otherwise, the fraudster will steal money from your bank account and you will get caught in many troubles in the midst of Corona crisis.
Do not forget these 5 things
SBI tweeted through its Twitter handle that these days many fraudsters are emptying bank accounts by implicating people in their talks. In such a situation, the customers have to always take care of the following things.
(1) Never give your personal information like date of birth, debit card number, internet banking user id / password, debit card PIN, CVV, OTP to anyone.
(2) If you call in the name of SBI, RBI, government officer, police or KYC authority, then you should be alerted. Because no bank officer will ask you for personal information.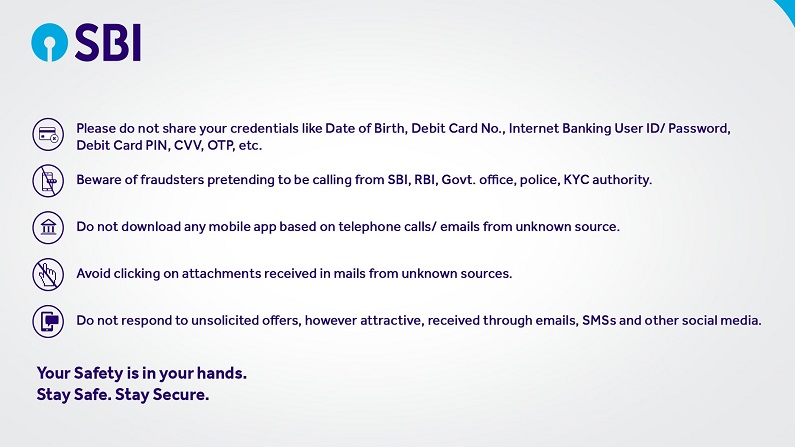 (3) If someone calls you and says, download this mobile app, don't do it at all.
(4) If you have an e-mail or an attachment from anywhere, do not click on it. By doing this, your personal information will reach them.
(5) Any big lottery that you have not applied for. Or do not trust SMS of any big offer. The fraudster steals your personal information through them and empties the account.
We advise our customers to be alert of fraudsters and not to share any sensitive details online or download any app from an unknown source.#StaySafe #StaySecure #BeAlert #CyberSecurity #CyberSafety pic.twitter.com/J8S6dxRpjq

– State Bank of India (@TheOfficialSBI) May 4, 2021
read this also- How to convert your bank account to Jan Dhan account, what are the benefits? Learn – Answers to all the questions
read this also-Will the RBI announce loan moratorium once again? Common people will get relief from not paying EMI, know what is the preparation now